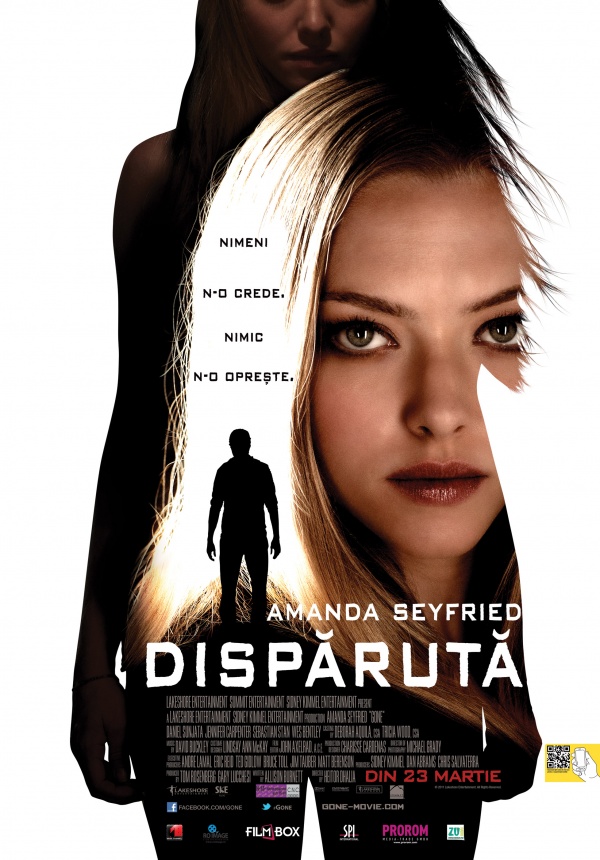 Titlu original: GONE
Titlu română: DISPARUTĂ
Premiera in Romania: 2012-03-23
Premiera internationala: 2012-02-24
Gen: Thriller/actiune
Scenariu: Allison Burnett
Cu:
Amanda Seyfried, Daniel Sunjata, Jennifer Carpenter, Wes Bentley, Sebastian Stan
Distribuitor: Prorom
Sinopsis
Jill Parrish (Amanda Seyfried) descoperă cînd se întoarce de la schimbul de noapte că sora ei, Molly (Emily Wickersham) a fost răpită. Cu un an înainte, Jill scăpase din mîinile unui individ care o răpise, un ucigaş în serie neprins încă, aşa că acum e convinsă că acelaşi individ s-a întors şi a răpit-o pe sora ei. Temîndu-se că Molly va fi moartă pînă la răsăritul soarelui, Jill porneşte într-o cursă nebunească pentru a-l găsi pe ucigaş, a-i scoate la iveală secretele şi pentru a-şi salva sora.

Cu: Amanda Seyfried (Mama Mia, Dear John, Mean Girls), Daniel Sunjata (Devil Wears Prada, Rescue Me), Jennifer Carpenter ( Dexter, Exorcism of Emily Rose), Wes Bentley (American Beauty, Ghost Rider), Sebastian Stan (Black Swan, Captain America), Joel David Moore (Devil's Advocate, The Bridges of Madison County), Emily Wickersham (I Am Number Four, Remember Me).