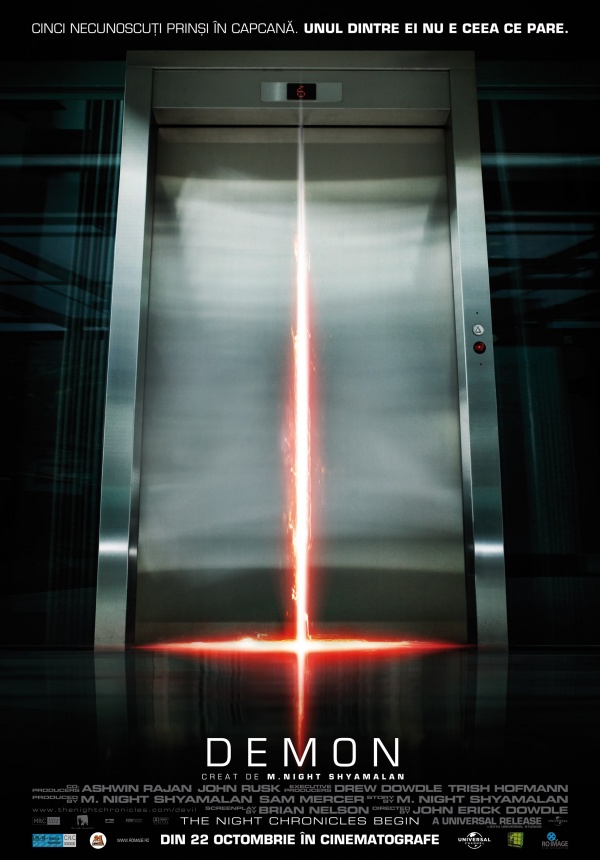 Titlu original: DEVIL
Titlu română: DEMON
Premiera in Romania: 2010-10-22
Premiera internationala: 2010-09-17
Gen: THRILLER
Scenariu: Brian Nelson
Cu:
Chris Messina, Logan Marshall-Green, Geoffrey Arend, Bojana Novakovic, Jenny O'Hara, Bokeem Woodbine, Jacob Vargas
Distribuitor: Universal
Sinopsis
Câţiva oameni rămân blocaţi într-un lift. Unul din ei e DEMON.
DEMON este un thriller cu accente supranaturale, care poartă amprenta inconfundabilă a lui M. Night Shyamalan (The Sixth Sense, Signs).
Regizat de John Erick Dowdle (Quarantine, The Poughkeepsie Tapes), după un scenariu de Brian Nelson (Hard Candy, 30 Days of Night) şi un story de Shyamalan, DEMON are în distribuţie pe Chris Messina (Julie & Julia), Logan Marshall-Green (Brooklyn's Finest), Geoffrey Arend (500 Days of Summer), Bojana Novakovic (Drag Me to Hell), Jenny O'Hara (Mystic River), Bokeem Woodbine (The Last Sentinel) şi Jacob Vargas (Death Race).
Alte informatii
Demon este produs de Shyamalan şi Sam Mercer (The Sixth Sense) , iar producători executivi sunt Drew Dowdle (Quarantine) şi Trish Hofmann (The Ruins).